Industrial Data Forwarder (IDF) for Splunk Plug-In
Product # EX5-SPLNK-NA01 (Call for Pricing)
Support & Maintenance within Warranty (Call for Pricing)
Support & Maintenance out of Warranty/Expired (Call for Pricing)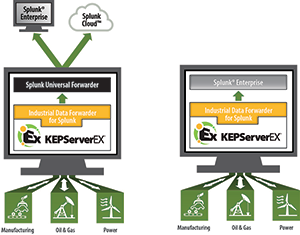 The Industrial Data Forwarder (IDF) for Splunk Plug-In connects Operations Technology (OT) with Information Technology (IT), extending the KEPServerEX communications platform and enabling Big Data and the Internet of Things (IoT). The IDF for Splunk Plug-In takes advantage of KEPServerEX's 150+ communication drivers to seamlessly stream real-time industrial sensor and machine data directly into Splunk® software and cloud services, enabling users to search, monitor, analyze, and visualize machine-generated big data from websites, applications, servers, networks, sensors, and mobile devices.
Download Splunk Enterprise
Download Kepware Demo
IDF for Splunk Plug-In Manual (PDF)

IDF for Splunk Plug-In Datasheet (PDF)
---
Plug-in Driver Features:
Streams real-time data from KEPServerEX into Splunk
Collects data from thousands of industrial sensors and machines, including PLCs, RTUs, PACs, DAQs, Controllers, and more
Adds custom meta data to driver tags in a free-form field for advanced search queries within Splunk
Supports Deadband to limit data throughput
Supports tag import and export for quick project configuration and deployment
Supports multiple Splunk connections simultaneously
Protocol
Splunk® is a registered trademark of Splunk Inc.
---
Drivers "Plug In" to KEPServerEX
The Industrial Data Forwarder (IDF) for Splunk Plug-In is a plug-in device driver for KEPServerEX. A "Plug-in" is a software program (.dll) that extends the capabilities of KEPServerEX to fit the communication requirements of a specific device or system. The plug-in driver handles all of the proprietary communications between the device/system and the OPC layer, KEPServerEX. The KEPServerEX core then handles all OPC and Proprietary Client communications between the plug-in driver and the Client application. For a complete list of features and capabilities please visit the KEPServerEX overview page.
OPC Foundation Certified: The best of OPC on the market
High Performance: Multi-threaded and Runtime Configurable
Detailed Protocol and OPC Diagnostics with communications trace
Native Interfaces: Client Connectivity Beyond the OPC Standards
Certified Stratus High Availability Computing
Certified Marathon High Availability Computing
2 Hour Demonstration Mode on all Kepware products

  Click here for more information